Euratom Research and Training Programme 2021-2025
One of Europe's main goals in the run up to 2050 is to reduce its CO2 emissions by up to 95%. To do this, the power sector – which accounts for a significant share of EU emissions – will need to be fully decarbonised. Low-carbon technologies, such as nuclear and renewables, will play a key role in this transition. By combining these two, Europe will have access to the energy it needs, when it needs it, whilst at the same time achieving its carbon reduction goals.
Low-carbon nuclear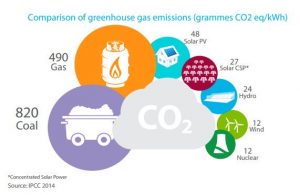 Already today, nuclear accounts for 50% of the low-carbon electricity generated in the EU, avoiding approximately 700Mt of CO2eq emissions each year! Looking ahead, nuclear will remain an important contributor to achieving the EU's climate change goals. Indeed, the IEA/NEA Technology Roadmap (2015) concludes that global nuclear capacity needs to more than double by 2050 if the 2°C ceiling of the Paris Agreement is to be respected.
Making the most of research to achieve our climate goals
In order to maintain low-carbon nuclear electricity production in the EU, a mixture of new build and long-term operation of existing nuclear power plants will be needed. A strong nuclear research and training capability is essential to underpin these operations and we believe that R&D activities should focus on, for example:
Development of new reactor concepts that are more efficient, more sustainable and more economic.
Improving the safety and efficiency of current light-water reactors (LWR).
A better understanding of ageing phenomena and how to control and mitigate them
Improving reactor components and fuel to make them better able to withstand radiation and higher temperatures.
Development of waste management and disposal techniques for non-standard waste streams.
Development of new recycling technologies for fast reactor fuels
Maintenance of shared, large research infrastructures of common interest, which can be useful for training and encouraging researcher mobility.
Significant investment in research facilities, as well as in human resources and equipment, will be needed to achieve these aims. Development of new reactor concepts, in particular, demands the building of expensive pilot plants and ultimately demonstration reactors.  If Europe is truly committed to decarbonising its economy, then this should be reflected in the budget allocated to nuclear R&D. Indeed, in the latest Nuclear Illustrative Programme (PINC), published in 2017, the European Commission itself states that "Continuing to pursue research and development is instrumental to maintain the EU at the forefront of nuclear technology and develop the highest standards of safety, security, waste management and non-proliferation.  This implies continued investment on research and training/education, as well as on nuclear research infrastructure".
In our view, this means that the level of EU funding for future Euratom research programmes must be substantially increased.
More information:
FORATOM involvement in ongoing EU funded projects
Below is an overview of some of the EU funded projects in which FORATOM is involved.
Research & Development
SPRINT – SNETP Programming for Research Innovation in Nuclear Technology:
SPRINT provides support to the Sustainable Nuclear Energy Technology Platform (SNETP).  The project has four main objectives:
Ensuring an inclusive and efficient process for producing strategic roadmaps
Improving the 'value proposal' of SNETP for the fission R&D community in Europe
Confirming SNETP as a key player within the international energy technology landscape
Enhancing the visibility and dialogue of SNETP towards a wider audience
The project has been allocated a total budget of €600.000 and will last 48 months from May 2015.
Education & Training
ENEN+ – Attract, Retain and Develop New Nuclear Talents Beyond Academic Curricula: "ENEN+", which will run for three years from October 2017 with a total budget of €3.2 million. ENEN+'s primary goal is to trigger a revival of interest in careers in the nuclear industry amongst the young generation. It has five main objectives, namely:
Attract new talent to a career in the nuclear industry
Encourage students to go beyond the academic curricula
Increase retention of attracted talents in nuclear careers
Involve relevant stakeholders from the nuclear sector within EU and beyond
Sustain this revived interest.
As a partner in this project, FORATOM has committed to developing a communications strategy aimed primarily towards both industry and policy makers.  It will focus on ensuring that adequate emphasis is placed on attracting, developing and retaining nuclear talent.
ANNETTE – Advanced Networking for Nuclear Education, Training and Transfer of Expertise:
This project aims to promote a better coordination of academic and vocational learning initiatives in the nuclear field in Europe, in order to achieve a higher level of networking and cooperation. It includes Continuous Professional Development in nuclear within the framework of a coordinated pan-European effort, making use of e-learning and even Massive Open Online Courses (MOOCs). FORATOM acts as an advisor in relation to existing nuclear courses and improving the efficiency of education and training in the field of nuclear.  The project will run for four years from January 2016 with a total budget of €3.18 million.
ELINDER – European Learning Initiatives for Nuclear Decommissioning and Environmental Remediation:
The overall aim of the current ELINDER project is to raise the interest of students and professionals and to stimulate careers in the important and emerging field of nuclear decommissioning and environmental remediation, by offering a set of attractive theoretical and practical learning opportunities. The outcome of this project will be translated into the development of a commonly qualified training programme in nuclear decommissioning between seven research facilities. As a partner in this project, FORATOM promotes training and support for ELINDER decommissioning training programme graduates by assisting them in the identification of internship opportunities in industrial enterprises active in nuclear decommissioning.