Nuclear offers much more than just low-carbon electricity… it also helps Europe beat cancer
Witold Strzelecki, Communications Manager at FORATOM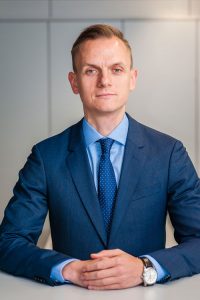 Nuclear energy plays an essential role in the European Union's energy mix. Currently, thanks to 107 nuclear reactors operating in 13 EU Member States, 26% of the electricity produced in the EU comes from nuclear energy which remains the largest source of low-carbon electricity. In its "Clean Planet for All" long-term vision, the European Commission confirmed that nuclear will form the backbone of a carbon-free European power system, together with renewables. This announcement came after the publication of the Intergovernmental Panel on Climate Change's (IPCC) report "Global Warming of 1.5°C" which recognises that nuclear power is essential if the world is to keep global warming to below 1.5 degrees.
In addition to providing a stable source of low-carbon electricity, nuclear energy offers many other important services. It can generate hydrogen for hard-to-decarbonise sectors (industry and transport), it can provide clean water through desalination or produce district heating by using waste heat from nuclear power plants. In addition, it can be used for industrial processes and for agricultural applications.
But nuclear is also used on a large scale in medicine. Nuclear radioisotopes are used for the diagnosis and treatment of many severe diseases, including cancer, which – as underlined by the European Commission – is the second leading cause of mortality in the EU. Therefore, it comes as no surprise that the current European Commission decided to prioritise policy relating to the diagnosis and treatment of cancer during its 5-year term. European Commission President Ursula von der Leyen keeps underlining the fact that cancer is one of her main priorities in the health domain. Her political guidelines refer to "a European plan to fight cancer, to support Member States in improving cancer control and care, to reduce the suffering caused by this disease and for Europe to take the lead in the fight against cancer". In order to do so, a special program entitled "Europe Beating Cancer" has been announced and it will focus on four pillars: (1) prevention, (2) early diagnosis, (3) treatment, (4) follow-up care. In addition, cancer is one of the European research and innovation missions and part of the Horizon Europe framework beginning in 2021. Nuclear technologies can definitely play an important role in this undertaking.
And how do nuclear technologies help the EU beat cancer?
As highlighted in an open letter signed by the European nuclear industry's leaders earlier this year, nuclear technologies play an indispensable role in the medical sector. Through diagnostic and therapeutic applications nuclear technology supports Europe's Beating Cancer Plan. Nuclear medicine is indeed an essential tool for cancer treatment with around 60% of all nuclear medicine procedures performed in this domain. To put it into perspective, across the EU, approx. 1,500 nuclear medical centres deliver around 10 million procedures every year. In addition, the European nuclear industry, including research facilities, is a world leader in terms of supplying radioisotopes.
Nuclear technologies have an essential role to play in providing medical isotopes as well as other therapeutic and diagnostic procedures. Nuclear technologies help track down various severe diseases at a very early stage. They can also kill cancer cells thanks to the radiation of medical isotopes. Such a treatment can be carried out both externally (radiation therapy) as well as internally by placing radioisotopes inside the body close to cancer cells.
Nuclear technology's contribution to beating cancer in Europe is significant partly thanks to the fact that there are many nuclear facilities based in the European Union which provide a continuous supply of required products. For example, in the EU, medical radioisotopes are produced in several nuclear research reactors, such as: HFR, Petten in Netherlands,  BR-2, Mol in Belgium, MARIA research reactor, Świerk in Poland, Orphee Saclay in France, FRJ-2/FRM-2, Jülich in Germany or LVR-15, Rez in Czech Republic. There are also many ongoing projects, finalisation of which will allow the EU to boost its capacity in this field, such as for example the PALLAS reactor, which is the new medical isotopes reactor that will replace the currently operating High Flux Reactor in Petten. Once it is launched, it will enable the Netherlands to continue to help millions of people.
The nuclear medicine sector collaborates with the European Union through projects such as SAMIRA, which seeks to identify opportunities and challenges for the use and development of ionising radiation and to discuss potential solutions to address challenges in areas where the EU can add value. In addition, in 2018-2019 the European Commission's Joint Research Center conducted a research project called SMER-1, which was "contributing to a sustainable and resilient supply of medical radioisotopes in the EU and investigating the medical radioisotope reimbursement systems in the EU Member States". After the project's finalisation, the JRC launched a new 12-month project (SMER-2), with the objective of providing the European Commission with current information on the radionuclide therapy market in the EU. What is more, in 2012, the European Commission established a European Observatory on the Supply of Medical Radioisotopes, aimed at "bringing together all relevant information to the decision makers in the EU institutions and national governments in order to assist them in defining strategies and policies for their implementation". These activities show that EU institutions treat the topic seriously and pay attention to its developments.
However, even though the European nuclear medicine sector is the leading provider of radioisotopes in the world and the EU institutions work on improving the current state of play, there are many challenges the sector faces at EU level which may have a negative impact on its future in the long run, such as: (1) a growing dependence on external suppliers, (2) insufficient funds for investment in research reactors, (3) aging infrastructure (requirement of new investments), (4) lack of consistency between countries in terms of internationally agreed policies, (5) cross border transport of radioisotopes, (5) lack of a level-playing field for different technologies or (6) a need for a healthy and innovative nuclear medicine supply chain.
In order to address these challenges, in the coming months FORATOM – together with its members and partners – will conduct a number of activities aimed at EU decision makers in order to present the full scope of how nuclear energy is used in medicine. These activities will also show the main challenges that the nuclear industry currently faces in this particular context and potential risks. Finally, FORATOM will highlight what should be done at EU level to ensure that a stable supply of medicine produced using nuclear technologies can be guaranteed and at least maintained at the current level. By implementing these recommendations, nuclear technologies will indeed help the European Commission implement the Europe Beating Cancer Plan.