Currently nuclear accounts for
35.86%
of low-carbon electricity in the EU.
According to the European Commission's REPowerEU Plan issued yesterday, nuclear will have a role to play in ensuring security of EU energy supplies. Furthermore, the Commission recognises that hydrogen produced from nuclear will act as a substitute for natural gas....
read more
Belgium's planned nuclear phaseout by 2025 is expected to increase the country's greenhouse gas emissions and energy imports, a report by the Federal Planning Bureau (FPB) found.
read more
What does nuclear contribute to Europe's economy?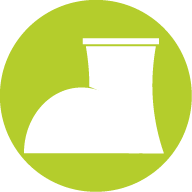 Nuclear reactors in operation in the EU